Accommodation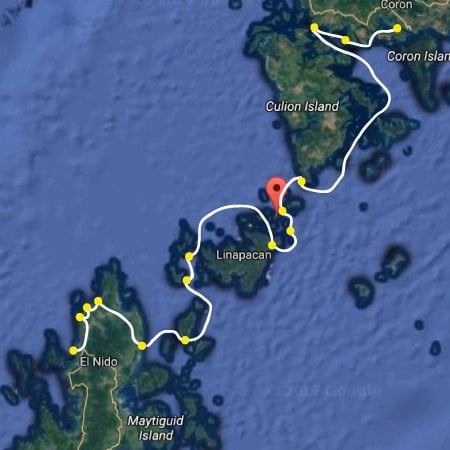 Below are our recommended, nice, quiet, off-the-beaten-path places to stay along our boat tours between El Nido and Coron. The below table lists our recommended accommodations from El Nido to Coron (going south to north) as shown approximately in the map to the left, starting with a beach hopping tour from El Nido along the north peninsula, then launching the boat tour from the archeological village of Sibaltan. On our private custom boat tours you are welcome to go any direction you like.
You can sleep on the boat for free, otherwise sleeping on land is extra and is charged separately.
If sleeping in a tent provided by the boatman (who generally also has mattresses, pillows and sheets), the charge is usually 300p/night/tent if one person or 400p if shared by two people. On some of the deserted beaches or islands the caretaker may show up and ask for 100p per person.
You can check out our suggested itinerary for other places in the Palawan area.
A

next to the resort name refers to the number of our own customers who highly rated this place.